Incorporated in February 1999,Choice Travel International is a privately owned Class A tour operator with our main offices in Jinan and Beijing.

We are specialists in adventurous travels and tours.We do lots of hiking,trekking,biking,rafting,mountaineering,camel safari,home stay etc in a very responsible way.

Also,we do very in-depth cultural exchanges.We go,beside all the highlights of China like the Great Wall,Terracotta Warriors etc, to the wildest regions to do camel safari,to stay in yurts,to take local transports,to eat local foods etc so that our clients can actually live themselves a colorful authentic Chinese life although only for a few days.

Beside,we are very professional in providing luxury services for incentive groups,business delegates and families. We run special interest tours,workshops,Eco tours,volunteer programs and many more.

We serve group travelers with a variety of set itineraries which always cover the most fascinating sites. And,we are specialists in serving individual travelers who may require from us either a full program or just one piece of service like a night's hostel accommodation or even a show ticket in a very small town of China. We have a complete and efficient network of branch offices and agents across China so that tailor-making is what we are very good at.

Outbound travel is another part of the company's business.We bring Chinese travelers to all destinations approved by the National Tourism Administration of China.

Let us know your requirements. We will make sure that you get a very enjoyable,very unique and very unforgettable experience with us.
1.Tour Operator Permit by China National Tourism Administration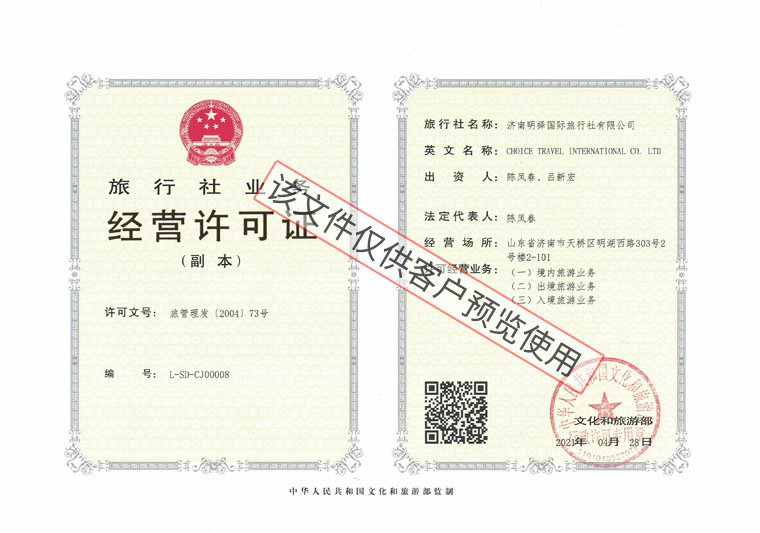 2.Business Registration Licence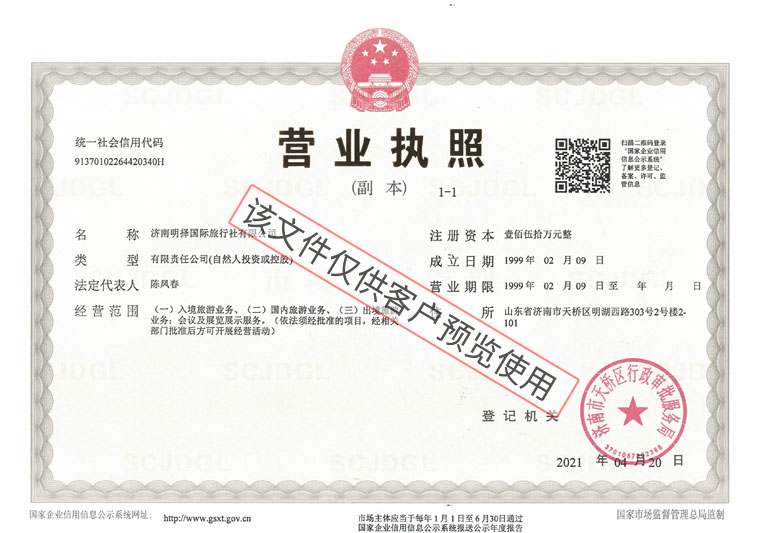 3.Public Liability Insurance